Caution
We receive disturbing reports from persons who have been duped by a party posing as "Slotenmaker Holland". These people come to other websites via "Google Ads" or Marktplaats.
Update 12-02-2021.
Good news! Google has finally taken action against these gangs. We hope that this will finally rid the Locksmiths branch of these practices: https://nos.nl/artikel/2368216-google-verwijdert-advertenties-slotenmakers.html
How does this gang operate?
They use Google sponsored ads. These are ads that appear at the top of the search results when you enter a search query on Google. See an example below.
See here an example search query and website they use.
At the top of the search results you can recognize the "Google Advertisement" by "Advertisement".
See also the "Damage-free door opening from € 8".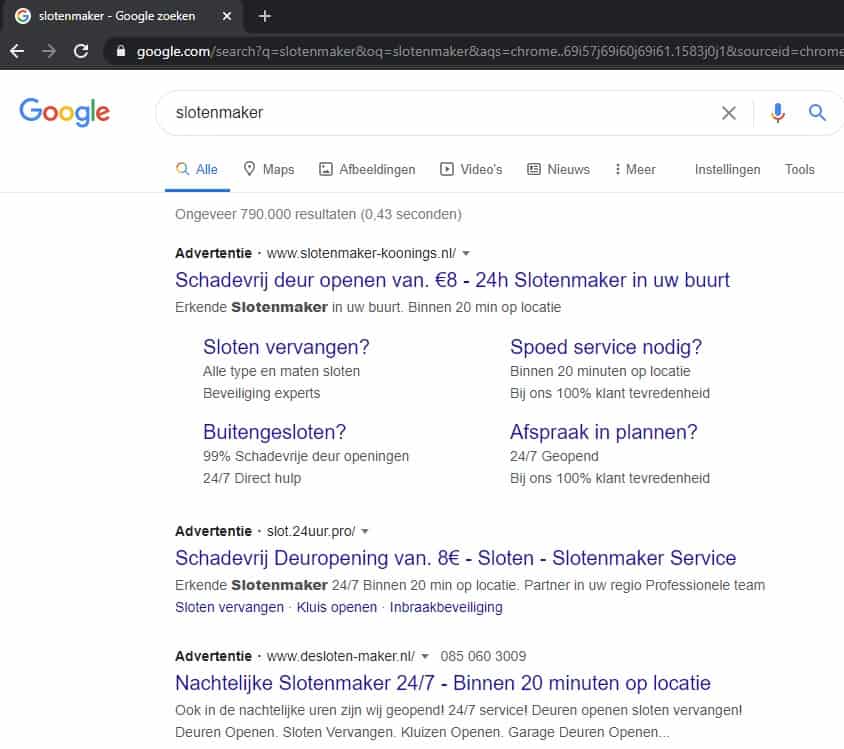 The complaints we receive come from the following websites. These sites are right at the top of Google Adwords. And despite our reports of scams by these parties to Google, they will not be removed.
locksmith-koonings.nl
www.deslot-maker.nl
www.hollandservice247.nl
www.budget-slotmaker.nl
www.slotmaker-vanhout.nl
www.slotmaker-nl.nl
https://slot.24uur.pro/
And one website from which we receive complaints that they continue to serve customers on location as Slotenmaker Holland.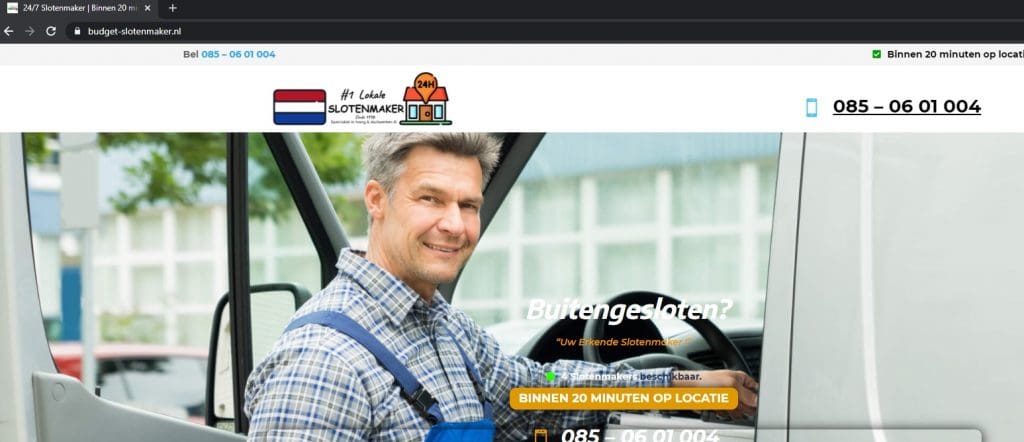 The other site from which we have received complaints.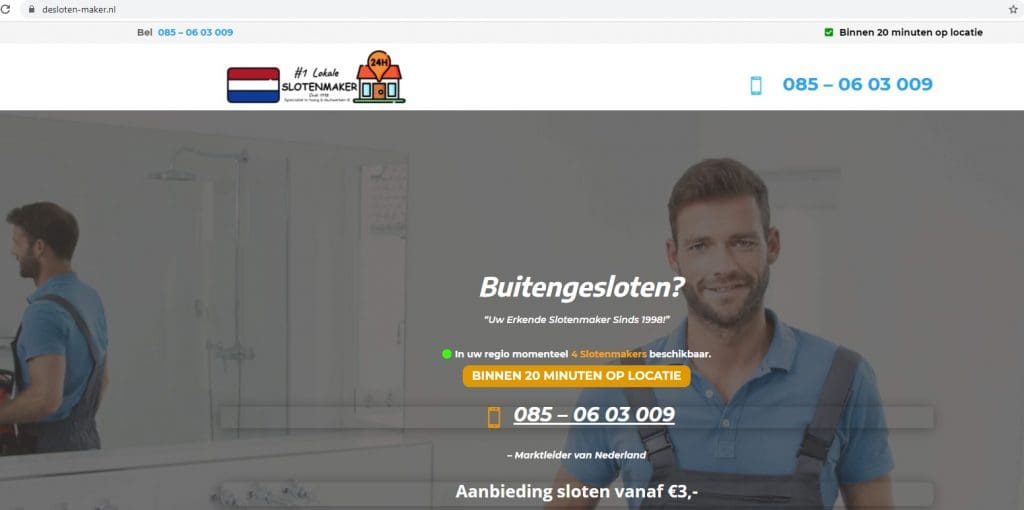 And a third site.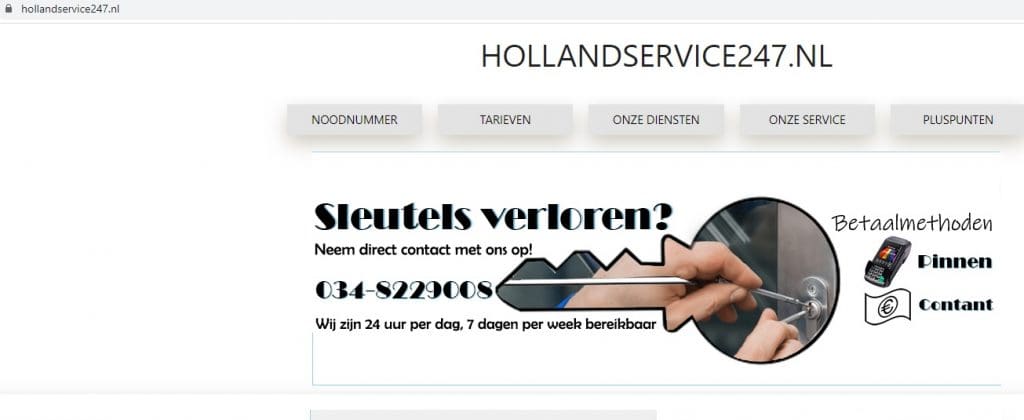 We have also seen that our name / s or logos that resemble our logos are being misused.
However, all these complaints have in common that they have contacted the other party. And when they surprise them with a sky-high bill. Suddenly left with the northern sun, and no longer seem to respond to customer contact.
How can you spot the websites of unreliable locksmiths?
A signal may be that they are using Google Ads. The prices in the industry for such ads are sky high and most legit locksmiths can't afford that.
There is no concrete information on the website.
No Chamber of Commerce number on the site.
No pictures or faces of the locksmiths in their corporate clothing.
You will not see license plates on the locksmiths cars.
The bank details are not on the website.
It's only one page
You can see the reviews (for example you will see "5 stars *****" but you cannot click on them to see where the reviews come from.
Too good to be true "Lock replaced for € 50, without call-out costs". "Locks from € 3"
Note
Slotenmaker Holland only uses this website and the contact details of our website. Our telephone numbers and all information we use are on our contact page.
Our bank account number is NL23BUNQ2044485044 In the name of "Slotenmaker Holland". Our technicians only accept payment by pin, bank transfer to NL23BUNQ2044 4850 44 or Tikkie. We do not make cash payments.
Our company name is Slotenmaker Holland with Chamber of Commerce number 68198280
We will never deviate from the prices that we communicate in advance, unless it has been agreed with you in advance. For example with additional work.
Legal
What can you do if you have been scammed by a dubious locksmith?
Always file a report. And include all contact details of the people who helped you. Website, telephone number, emails, which pin transaction, receipts and the like can serve as proof.
Unfortunately, in many cases the police cannot do much about this. Because it is a civil agreement.
Relevant links:
What can you do?
If you get an unexpected bill from a Locksmith or Scammer. Our advice is not to pay for this. And certainly not cash!
After all, there is no transaction to repeat in cashleiden. And it is also more difficult to prove it to the police.
A legitimate locksmith always has a card machine with him, or can accept a payment by Tikkie (Ideal bank transfer).
What is the consequence of this scam?
In recent weeks we have been receiving disturbing phone calls from people who have been defrauded by a gang that uses various Chamber of Commerce data, various websites, cash payments or bank transfers. And they misuse our logo or company name in certain cases.
If you have been duped by this party. Send us an email or give us a call. We can help you (if necessary) at a reduced rate.
Please note that if your lock has been replaced by that party. It may not be (completely) safe. They may have a spare key for your door lock!
What measures have we taken
We have adapted our logo to include our website and contact details. So that people can no longer be duped with our data in the future.
We spoke to all victims. And in some cases, our technicians also fixed the door immediately.
We have advised all victims to contact the police.
Where bad work was done by the gang, we repaired the damage as far as possible.
We have posted this warning on our website, and at Bunch of Radar.


What can you do to find a reliable locksmith?
Always check Google for reviews of the website you are using.
Best to see if it is a local locksmith with good reviews. Or search results that come up organically (not the paid Google Ads) but the results below.
Those results take a long time to achieve and many of these scam artists switch websites every few months.
Google Ads