We are regularly asked about what type of lock one can best use. That is why it is important to first set out all the different types of locks. Then we explain the differences. There are different brands of locks, different security levels and different applications. Door locks, window locks, interior door locks and much more.
Most common type of door locks
There is a difference between side locks and master locks. A master lock is normally located centrally on the door and can lock the door independently. Side locks are often centered between the main lock and the bottom or top of the door. In those cases, the additional locks serve as additional security on the door.
Nemef, Lips, Dom and AXA are common brands in the Netherlands.
Normal mortise lock
The normal mortise lock is common with wooden doors. These type of door locks are usually placed in combination with a striking plate or closing bowl, a profile cylinder and a security fitting.
The replacement of mortise locks is fairly simple for a skilled person, depending on the circumstances. Mortise locks are recessed in the door. Many mortise locks are supplemented with a cylinder, and are therefore often referred to as cylinder locks.
Mortise locks are usually a main lock, but can also be used as a side lock and multi-point lock (The term multi-point lock only indicates that one lock locks in several places. A multi-point lock is therefore possible in combination with most types of locks.)
Mortise locks are available in many brands, types and sizes. There are SKG certified mortise locks and also regular mortise locks.
Cylinder mortise locks are equipped with a cylinder that can be removed and replaced. These cylinders are available in many different versions. Here too, there are both SKG-certified cylinder locks and normal cylinder locks.
These locks can also be mortise locks: Narrow locks, Flat locks, Keypad locks and Electric mortise locks.
The picture below is of a narrow mortise lock.
Rim lock
Rim locks usually occur at the front houten doors that open inwards. This door lock contains a lock case and a fixed outer cylinder. You can see the rim lock on the inside of the door. When it comes to the day and night lock or main lock, there is a trigger on the inside of the door. With the trigger you can open the door when it is unlocked.
There is a surface-mounted closing bowl attached to the door frame, which is attached with screws.
This is a type of lock that is hardly used anymore in new-build homes. The lock mainly occurs in older houses in the big cities. But it is still a common type of lock. In the picture you can see a fairly new version of this type of lock.
Installing a new rim lock is no problem for a professional. It does require professional knowledge to assemble a model with a separate outer cylinder. The professional must ensure that it is precisely measured and that the mechanism is firmly attached to the door and door frame.
There are also rim locks as an additional lock, which are less common. These types are also rarely used in new-build homes.
There are rim locks with a fixed cylinder or with a separate cylinder. Models with SKG quality mark are also possible. An SKG 3 certification is intended to prevent core pulling.
Pen locks
Pen locks are often placed as additional locks. These are usually mounted on houten doors. Pen locks are usually relatively effective and inexpensive. Due to the small size of the pin locks, mounting is no problem for a professional.
Pen locks are also available in different variants, including SKG pen locks. SKG pin locks always have a closing cup and a closing plate.
Auxiliary locks
Side locks are the term for locks that are placed next to the main lock on a door or window. Side locks are an extra burglary protection.
Side locks can also be cylinder locks or rim locks. It is also possible to place an extra door or window latch. These are also available in SKG variants. The bolts are used as additional burglary protection.
Security locks
SKG 2 and SKG 3 star locks are quality locks that indicate what burglary resistance they guarantee. You can recognize these locks by the 2 or 3 stars at the bottom of the cylinder lock. However, there are also large differences in the quality levels of an SKG 2 and SKG 3 slot between different brands. Our locksmiths are happy to advise you on this.
Various brands, such as Nemef, Lips, Pfaffenhain and DOM offer safety locks for various types of locks. Safety locks of the SKG 3 class are intended to prevent core pulling.
Besides security locks, there are also security fittings. These fittings are placed over the lock mechanism and the key opening. This way they protect the lock and the lock mechanism against burglary. The SKG 3 security fitting places a steel ring above the cylinder lock, making piercing and core pulling of the lock very difficult.
Certified keys
A variant of the SKG locks are locks with a certificate. These keys cannot be copied without the certificate. This way you always know how many keys are in circulation. This can be useful for rental, subletting or a shared entrance at a commercial building, for example.
Certified locks come in a variety of burglary resistant classes.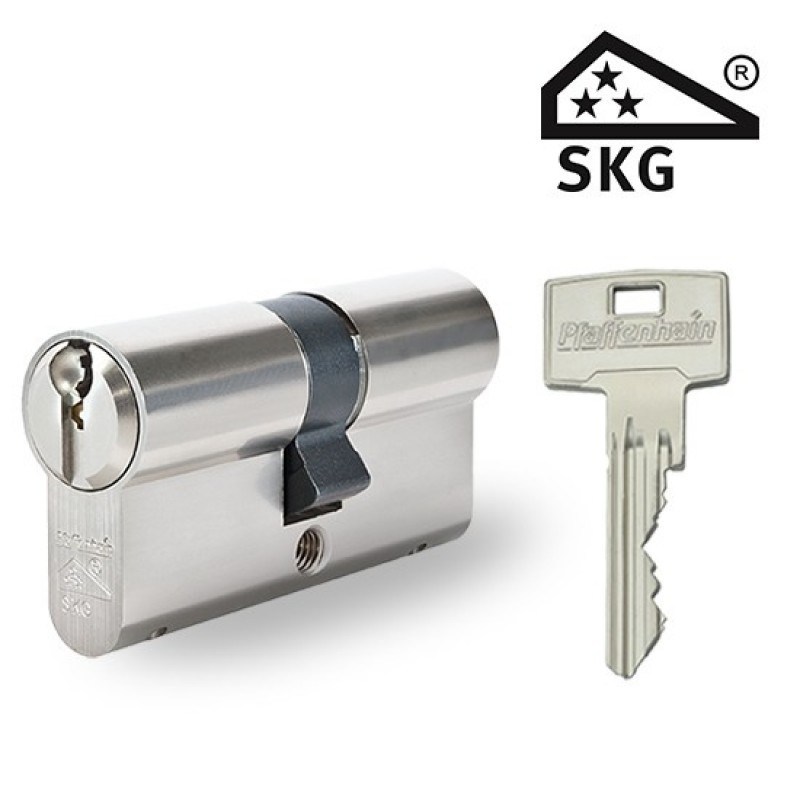 Burglary protection
Burglary protection comes in many shapes and sizes. Additional options are available to further secure your doors. Here you see thieves claws, these are iron pins that are anchored in the door frame when you close your door. This way you make a safer door. And burglars are less likely to force the door.
Thief claws also occur in combination with a multi-point lock, in which case the door is maximally anchored in the door frame.
There are also door trees and window trees. These levers can only be closed from the inside so that people with a key cannot enter when the door trees are closed. Window trees are often the only mechanism for closing the window.
Furthermore, measures can be devised, such as anti-burglary strips. These are metal strips that fall over the hole between the door and the frame. This ensures that the door cannot be easily opened with a thin object or crowbar.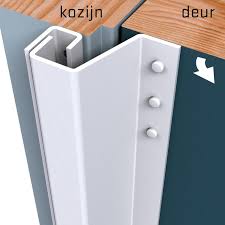 Burglary prevention brochures
Deposit Burglary Protection Certification
Neighbors card for during holidays (Brochure)
Cylinder pull protection (Brochure)
Seniors and Security (Brochure)
Safe living Comfortable living (Brochure)
Dutch House Burglary Methods Association
Home Ownership Burglary Prevention Tips Association
Reduce the risk of a home robbery (Brochure)
What is it police label safe living?