Slotenmaker Holland
Slotenmaker Holland operates in various places in the Netherlands. Each of our locations has its own region and work area. We currently operate in the provinces of Utrecht, Gelderland, Flevoland, North Holland and South Holland. Is your city or region not listed? Please contact our employees, perhaps we can still be of service. For appointments on location (no rush) there are also possibilities outside the indicated regions. However, we keep the regions in which we advertise compact for rush jobs, so we can always be on site quickly.

Customer service is of paramount importance at Slotemaker Holland, we will only leave if you are 100% satisfied. Price agreements are always discussed with you in advance, and you always receive a neat invoice and possibly a pin receipt.

Our locksmiths are all equipped with a mobile debit card machine, which usually accept all bank cards from Dutch banks. In any case, we accept Maestro, Mastercard and Visa. If you do not have a debit card, you can also pay by smartphone via a payment link.

The Locksmiths of Slotenmaker Holland have many years of experience and do everything to satisfy you. When installing or replacing locks, you have the option of choosing certified SKG ** or SKG *** safety locks, security fittings and auxiliary locks. These locks are of excellent quality and are also burglar resistant to a higher level. This gives burglars a check.

Our locksmiths also advise you free of charge on options for burglary protection, so there are also options for anti-burglary strips. You may want to have keyed alike cylinders so that your front and back doors can be opened with the same key.
Slotenmaker Holland in the newspaper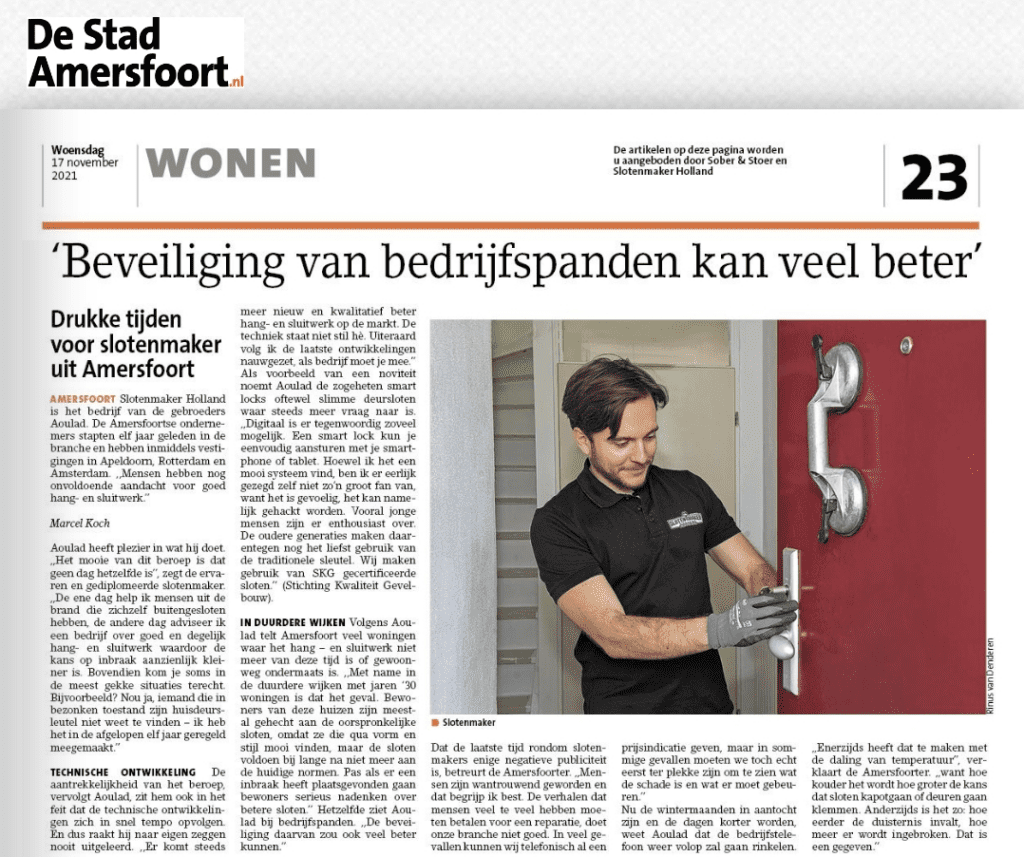 What do your services cost?
No job is the same. Every lock and front door is slightly different. That is why we prefer to see the situation (for example, you can send us photos via Whatsapp or email) for specific questions. For example, it often happens that the customer does not know exactly what type of lock is currently in the door. And that is of course also logical. That is why we also have one for our customers lock guide made with an overview of all types of locks. That immediately makes talking a lot easier.
Important questions to consider for your security and locks are:
What security class do you want from your locks? SKG **, SKG ***? Or do you want the cheapest option with fewer burglar-resistant options? For example, combinations are also possible with an SKG ** lock and an SKG *** security fitting. Then you have a much cheaper option with SKG *** protection.


Do you currently also have side locks? Extra locks on your door? Many Dutch people only have security claws with which the doors are additionally locked at night. But did you know that most burglaries happen during the day and in the evening? Side locks that you can close from the outside can help. You close the door at several points. The disadvantage of side locks is that it takes more effort to close the doors. If you do not close the extra locks when you go out, they will add little to your security.


Do you still want a higher level of security? But would you prefer this without the effort of extra locks and keys? Then choose a multi-point lock. The multi-point lock locks the door in several places, this makes the door difficult to force or break open. But then with the convenience of one key and one lock.


Would you like other options for burglary protection? Here you can think of an anti-burglary strip. An anti-burglary strip ensures that the burglar does not go through a crowbar or plastic tool to open the door, or at least is made very difficult. Burglary strips are a metal strip that is placed in front of the slot between the door and the door frame.


Would you also like advice on burglary prevention? Burglary prevention advice can take many forms, but we can also immediately install the hinges and locks that are needed to improve your security. Our locksmiths are familiar with the guidelines of the Police Hallmark for Safe Living and also advise you on this with your locks and security. In most cases our technicians carry the stuff for your specific wish. Of course, that also depends on the exact materials required.


Do you want keys with a certificate? That is also possible. We provide you with a lock with certified keys, which means that they cannot be simply copied (without your permission). In that case, you must request the manufacturer of the keys to make additional keys, only you can do this with the original certificate. This can be very useful when renting out buildings or subletting. This way you always know how many keys are in circulation.
Click on a location for more information
Replace locks on location
On location within 30 minutes
Doors opened after lockout