Why choose a lock with the SKG quality mark?
Securing a home or business premises is a serious matter if you value a sense of security and safety. But it can prove quite complicated to make the right choices in this area. How can you best secure your property? Which access roads could potentially pose a risk of burglary? And: which lock is the best choice in your situation?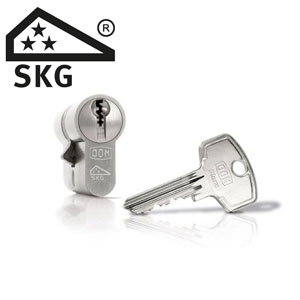 In this article, we try to provide you with answers to these questions, so that you have a better picture of burglary protection. This basically starts with your lock. The stronger and better the lock, the harder it will be for burglars to force your door (s). It is important that you choose a lock with the SKG quality mark. Then you can be sure that it will in any case be quite difficult to enter your building without a key that fits in the lock.
What does the SKG quality mark mean?
If you want to choose a good lock, always make sure that it is a lock with the SKG quality mark. This concerns locks that are extensively tested by the Quality Gevelbouw Foundation, after which a certain lock receives a classification in the form of one or more stars. This classification basically tells you how long it takes before a lock can be forced:
1 star means burglar resistant as standard: A lock with this rating should resist at least 3 minutes when attempting to break in with simple tools such as a crowbar or screwdriver
2 stars means heavy burglar-resistant: these locks must also withstand at least 3 minutes, but in the case where more extensive tool sets are used
3 stars means extra heavy burglar resistant: these locks must withstand at least 5 minutes in situations where heavy tools are used
These stars are not only attributed to locks for doors, but also hinges and locks for windows, garages and the like. A burglary is therefore not entirely excluded, but you make it very difficult for burglars if you choose a multi-star lock. Slotenmaker Holland in principle, always recommends locks of two or three stars, because you are better protected against more professional forms of burglary. Especially if it is a commercial property or a house with precious properties.
Which lock is the best choice in your situation?
Do you want to replace your locks? Or would you like to know whether your current locks meet the standards? This can be difficult for a layman to determine, because you can not see how many stars are involved in your current slot. Locks are available in many shapes and sizes, apart from the SKG quality mark. You can opt for special security fittings, or a lock with anti-core pulling protection. You can also choose a lock that locks your door in several places: this is a so-called multi-point lock. We are of course happy to assist you with clear advice in this area.
Can Holland Locksmith open such locks?
You may be wondering after reading this article, what happens when you shut yourself out? When a lock is that strong, how can a locksmith get the job donelaren? The answer to this is simple: we only work with qualified and experienced staff. We have many years of expertise in our field and use the most modern means and techniques to get your door open again. It goes without saying that when choosing a locksmith, you should always choose a reliable partner who wants the best for you. On our website you can find everything about our services, knowledge and experience and also the many companies with whom we have worked successfully in the past. Your safety is our profession!
Relevant blogs: