What is a multi-point lock and do you need it?
Most homes, however, have a normal cylinder lock. You insert the key into the keyhole, turn and the door is locked at the keyhole. But did you know that there are also locks that lock your door in several places? This is usually in the same place as a regular lock, plus on the top and bottom.
Such a lock is called a multi-point lock. A multi-point lock is more expensive than a normal lock, but you will get extra security in return. It is especially difficult for burglars to force your door with a multi-point lock, as this now has to be done on three points. Are you considering replacing your locks? Then a multi-point lock is definitely worth your attention: a solid investment in the future.
How do you choose a good lock?
Sometimes people want to replace a lock yourself. This is of course possible if you are handy. But it can go wrong on several fronts: this actually already starts with the purchase of a new lock. Multi-point locks can be bought in a relatively large number of shops, such as hardware stores. But one multi-point lock is certainly not the other. There is a lot of difference in quality, so it is important to pay attention to the presence of the SKG quality mark.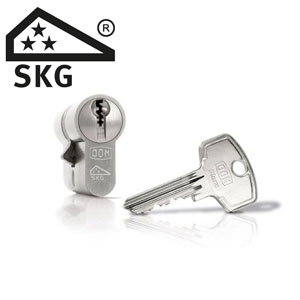 Locks with this quality mark have been extensively tested for the extent to which they have an anti-burglary effect. The more stars a lock has, the harder it is for a burglar to enter without a key. A multi-point lock will in practice already have a burglary-delaying effect, in view of the multiple lock. When you also choose a lock with two or three stars, you choose security and quality.
What are the advantages of a multi-point lock?
A multi-point lock is, as previously indicated, more difficult to force because of the multi-point lock. Burglars still work with crowbars, but when they have to break a door in three places, people often already drop out. In addition, there are other methods that are popular, such as core pulling. The cylinder is lifted out of your lock with a screw, after which the door opens in the case of a normal lock with one lock.
However, with a multi-point lock this will be much more difficult, because the three locking points can in fact only be unlocked with the matching key. It should also be mentioned that a multi-star lock with multiple stars seals your door perfectly, making it very difficult to get an object in between. These locks are perfect for those who live remote, own a lot of expensive property and also for commercial properties. But also if you live in an area where there is a lot of burglary: you get an extra piece of security in return and that is more than worth it for you and your family.
Is a multi-point lock the best option for you?
Would you like more information about multi-point locks? Or would you like advice on the level of security in and around your building? Slotenmaker Holland likes to think along with you. We can install every conceivable lock in a professional manner, but we can also replace locks, open them and advise you on any additional security options. Please do not hesitate to contact us if you would like to receive more information.
Relevant blogs: