Every house is a precious possession. It is the place where you can enjoy a safe haven with family and friends. It goes without saying that you want to protect this place well! In that case, a well-functioning and excellent-quality lock is a must. We often ask questions from people who want to know what a good lock actually means. That is why we have listed all the different locks for you, with all associated features. That way you can check yourself whether your current lock still meets the standards.
The cylinder lock in a nutshell
A cylinder lock is actually exactly what the name implies. It is a mechanism that can be opened using a precisely fitting key. In that case, the cylinder rotates so that the locking mechanism can be unlocked and vice versa. Cylinder locks come in very different variants: from single to multiple locking and also, for example, a series of identical cylinders: keyed alike cylinders.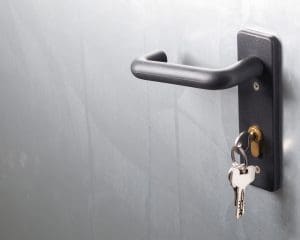 If you want to adequately secure your home, we always recommend a cylinder lock with the SKG quality mark to choose. This classification consists of a number of stars, ranging from one to three stars. When a lock has three stars, this model is considered the most burglary-resistant. This considerably reduces the chance that someone can break into you. Below we explain some extras and properties of cylinder locks, which can further reduce the risk of burglary.
Cylinder locks with security fittings
If you would like to consider extra security as valuable, you can opt for a cylinder lock with special security fittings. This slows down when someone wants to force your lock or door. A special security fitting that you can choose is anti-core pulling fitting. There are also special anti-core pulling cylinders. The effect ultimately boils down to the same thing: preventing core pulling, a method that has been widely used by burglars to date.
Core pulling means that one tries to remove the cylinder from your lock with a screw, after which the door simply opens. This is done with a certain pulling force and the purpose of anti-core pulling cylinders is to make this impossible. These locks can handle a pulling force of up to 1500 kilograms, so that a burglar is no longer able to remove the cylinder. If you want to better protect your home against burglary, this is a very good option.
Multipoint closure
In other articles we have discussed extensively multi-point locks. A multi-point lock is a lock that your door does not lock in one place, but in several places. This makes it virtually impossible for third parties to enter your premises without a key that fits in the lock. A multi-point lock is often stronger than a regular cylinder lock for this reason. Please note, however, that you buy a multi-point lock with SKG quality mark. Some locks are not equipped with this, so you have no guarantee regarding the quality of the lock.
Can a locksmith open any lock?
With the above information, the question naturally arises, whether a locksmith than can still open the lock? The answer to this is yes, if the locksmith is reliable and qualified. A good locksmith always has access to various modern equipment, with which every lock can be opened. Even a safe, while these are known for being difficult to crack. Slotenmaker Holland can always assist you when you can no longer open your lock. Of course we only do this, if you can prove that the house you want to enter is yours.
Slotenmaker Holland likes to think along with you!
Would you like personal advice regarding the best lock for your home? Or do you want extra security for your building? We can offer you various options, however all our locks have at least two stars and we only work with A-brands. Only in this way can we continuously guarantee you quality and craftsmanship. Feel free to contact us for more information.
Relevant blogs: